Marble Coffee Tables
Are you looking for a marble coffee table? Explore the most extensive range of marble coffee tables on the internet. From the classic white marbles originating in the famous Carrara mountains of Italy to the darker marbles of Noir St. Laurent and Nero Marquinia.
We have a range of marbles in all manner of colours available with more being added all the time. This collection offers a wide range of designs including round, square and rectangular marble coffee tables. All of the designs on offer cater for both those who want a solid marble coffee table, and those who want to combine marble with solid walnut or oak. This marble coffee table collection is for those who are looking for the ultimate in luxury marble coffee tables.
Browse our Marble Coffee Tables
What is Marble?
Marble is a fine to coarse grained metamorphic rock composed of at least one of calcite1 and dolomite2. It is formed by low to high grade metamorphism of limestones or limestone breccias and conglomerates.
When pure, marble is completely white. The colouring in marble is caused by the presence of impurities. The identification of where a pure white marble originates from is virtually impossible with the naked eye.
In order to establish the location where it was quarried sophisticated technologies such as neutron activation and mass spectroscopy are needed.
Prized throughout history by emperors, sheikhs and artisans. Due to its natural beauty, marble has always been one of the world's most coveted materials. Whether it is a pure white Italian marble with beautiful veining, a smooth cream marble or an exquisitely veined black marble. Each piece of marble is a one-off piece of art.
And this art can come into your living space in the form of a marble coffee table. No matter what style of coffee table you choose. Be it a round, rectangular, solid or square marble coffee table. The result will be the addition of undiluted luxury to your living space.
Choosing a White Marble Coffee Table...
To most people, the word "marble" brings to mind the pure white stone so prized for sculpture since ancient times. Iconic building such as the Acropolis in Athens and the Taj Mahal3 in Agra are both built with white marble. The famous David and Rodin's The Kiss was sculpted by Michelangelo in white marble.
As soon as one sets eyes on white marble the immediate impression is one of prestige and luxury.
The first sources of white marbles in the Western World were to be found in Greece and the Apuan Alps of Italy. From the Apuan Alps comes the world-renowned Carrara Marble the material used to build The Pantheon. And from Greece comes the pure white Thassos Marble.
In addition to these early marble sources white marble can be obtained from other areas of the world. This includes Calacatta Ivory from South Africa and Calacatta Colorado from the Appalachian Marbles in the United States.
Whenever a white marble coffee table is displayed in a living space the result is outstanding natural beauty which impresses all who lay eyes on it. This beauty holds whether it is a solid white marble coffee table or a white Italian marble coffee table combined with a solid oak or walnut.
Luxury furniture containing white marble is perhaps the ultimate way to bring prestige to a room.
Our white marble coffee tables collection has the widest range of white marbles on the internet. Whether you are looking for a Carrara marble coffee table or one in the prestigious Statuario or Calacatta Oro marble, if you are looking luxury coffee tables containing white marble you will find it in this collection.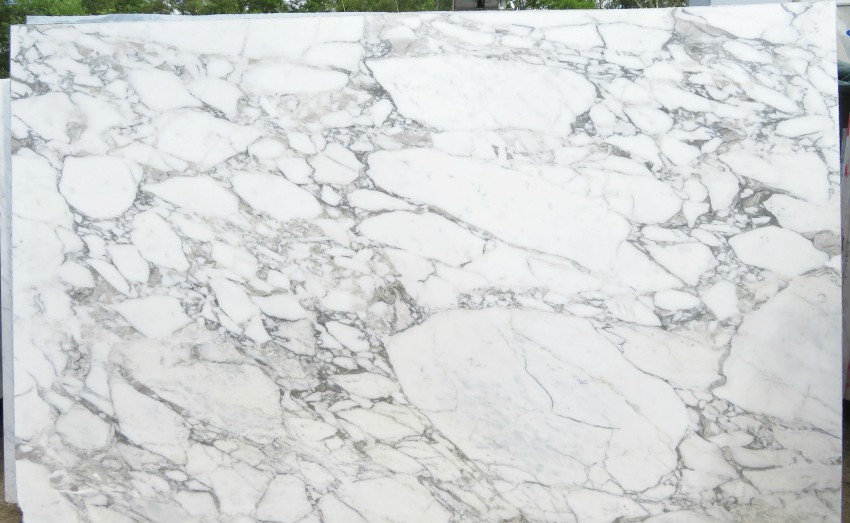 Choosing a Green Marble Coffee Table...
A green marble coffee table is a great option for those wanting to create a calm natural feel in their living space. This material combines beautifully with both solid woods and gold.
The green marble coffee table collection offered by Prestige Edition offers a range of designs. This includes both solid marble tables and beautiful green marble tops combined with luxurious materials. The green marble in these tables comes from Rajasthan, India. This marble consists of various shades of green with dark green veining throughout.
A Solid Green Marble Coffee Table
Choosing a Grey Marble Coffee Table...
Grey marble can provide a luxurious base to any living space. Neutral grey has the ability to blend in with a range of interior design ideas. You can even choose to use a cool grey to give a cooler feel to the room. Or a warmer grey to do the opposite.
Whichever colour and design scheme you choose for your room there are not many items of furniture which can gives a luxurious base as well as a grey marble coffee table.
Choosing a Brown Marble Coffee Table...
A Brown marble coffee table helps create a comforting and natural feel to a living space. Brown marble will integrate with all natural materials and almost any colour scheme. We offer a range of brown marbles in our collection ranging from the deep brown of Marron Imperial to the lighter brown of Emperador.
Choosing a Black Marble Coffee Table...
Until they are polished, black marbles are dark grey or brown. The black colour is brought out through the polishing process. This results in a breathtaking decorative stone. Some examples of this are Noir St. Laurent of Laurens near Béziers, France. And Nero Marquinia of Bilbao, Spain.
A black marble coffee table consisting of either of these beautiful stones guarantees a striking piece of art in any living space.
Black marble coffee tables combine beautifully with the rich tones of solid walnut, giving the most regal of feel to any room.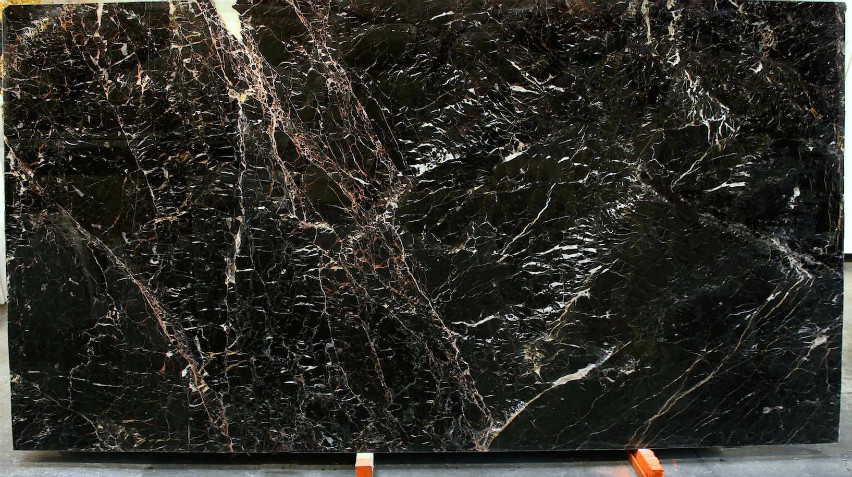 Choosing a Cream Marble Coffee Table...
The understated colour of cream makes it an ideal material to use for your stone coffee table. It combines beautifully with a range of colours making it a great addition to most rooms. We particularly enjoy the combination of cream marble with wooden legs. This combination gives the room a warm feel whilst whispering luxury. It provides a much subtler feel of prestige when compared to some of the more striking stones like Statuario and Noir St. Laurent.
If you are looking for a cream marble coffee table, Crema Marfil is a great choice. It has a smooth feel with occasional rustic veining depending on the block it is cut from.
It has been extracted since the 1950's from the huge Monte Coto quarry that lies between Pinoso and Algueña, in the Sierra del Reclot.
Like the other cream marbles it combines wonderfully with solid woods like walnut and oak. Whether this wood comes in the form of your other furniture and doors or the coffee table it is a tried and tested combination which will accentuate any living space.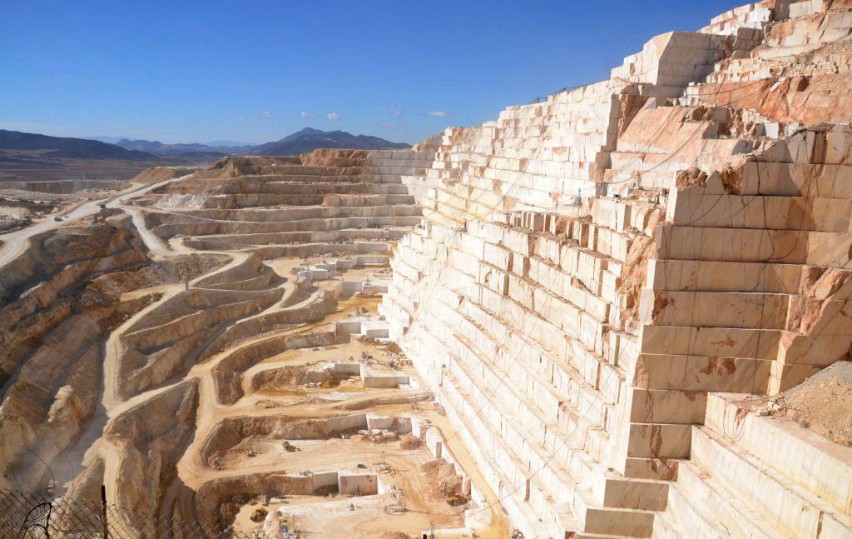 How Our Marble Coffee Tables are Manufactured
Out of the Ground
The journey of one of our marble coffee tables starts in the ground. Let's say we are using Arabescato Corchia marble for one of our coffee tables. The journey of the stone begins in the famous Carrara Mountains of the Apuan Alps in Tuscany, Italy. The quarrying process will extract this stone it is raw form as a block out of the mountain.
The Quarrying Process
It is extraordinary to think how in ancient times, enormous obelisks could be cut out of the ground and shaped to perfection without the use of modern technology. The whole process of quarry both in ancient times and today is massively helped by nature.
Ancient Quarrying Methods
In ancient times when when the first blocks were cut from the bedrock. Simple methods proved to be remarkably effective.
One such method was as follows:
Wooden wedges were hammered along joints (natural weak points in the stone). Then they would be soaked in water, making them swell enough to force the rock apart.
Another method used was:
The use of thermal shock. This was achieved by heating the stone with fires then dousing it with cold water. This would weaken the stone and make it easier to break out of the mountain.
There is a fundamental rule of quarrying which has remained just as important now as it was in ancient times. This rule is a softer stone can always be cut by a harder one. The Romans made saws out of strips of bronze charged with the same abrasives which they used with various chisels and points for working the stone.
In modern times the abrasive of choice is the hardest stone of them all, the diamond.
Modern-Day Quarrying Methods
The modern-day quarry is a muddy, dusty, noisy place where stone must be extracted to a high standard on a consistent basis. The challenge with this is to complete the extraction of the stone in a cost-effective manner. A multitude of factors will determine how the stone is extracted. Factors include the kind of stone which is being worked, how it is positioned in the quarry, the set-up costs of the machinery, the available labour and the time available to meet purchase orders.
Traditionally the method which has been used is, to fire explosive charges to release blocks of stone. Little expensive equipment is needed which means this method is frequently used by developing countries and small quarrying companies. The downside of using this method is running explosives through the stone is the amount of damage and wastage which can occur. It is common for their to be more waste than usable material when this method is used.
Using diamond wire has revolutionised ornamental stone quarrying in recent decades. Heavy wire fitted at regular intervals with beads impregnated with industrial diamonds can be used to saw through granite or marble surprisingly quickly. It gives a clean, accurate cut with minimal wastage. This method can be used in both underground mines and open air quarries. This machines can be used to operate alone therefore vastly reducing the labour intensity of the quarrying process.
Initial start-up costs of this process can be high, but over time quarries which use this technology can expect to reap huge improvements in productivity. In the search for more environmentally friendly quarrying practices high powered water jets are being successfully introduced as another means of quarrying marble.
At Prestige Edition, we endeavour to make sure all the marble we use comes from the most ethical of sources using the most environmentally friendly state of the art quarrying methods.
Once the marble block is quarried. The marble block needs to be transformed into a slab ready for fabrication into a decorative stone for a luxury marble coffee table.
Transforming the Marble Block into a Marble Slab
The marble block is processed through a piece of stone machinery called a gang saw. This piece of machinery uses multiple diamond blades to slice the marble block into slabs of varying thickness. The most common thickness is 20mm (2cm) or 30mm (3cm). But custom sizes can also be cut by adjusting the saws settings. The dimensions of the slab which is produced will be dependent upon the size of the quarried block.
Once the block has been through the gang saw the surface of the slab needs to be finished. With our coffee table this is normally a polished finish. This is achieved by passing the slabs through a computer controlled stone polishing machine. The slab is a conveyor belt like machine where the slab is passed under rotating spindles with increasingly finer grades of abrasive. First any undulations in the stone are levelled. Next the stone is honed to a smooth finish (at this point the process is complete if a honed surface is required).
And to achieve the polished finish the stone is buffed to achieve a glossy finish.
Turning the Slab into a Marble Coffee Table
Next we will transport our polished slab from one of our fabrication centres in Europe to our UK finishing centre to complete the process of turning our slab into a marble coffee table.
Here the first phase of the process is to use a CNC machine to precisely cut the shape for the marble coffee table. Next the edges of the coffee table will be put through a state of the art edge polishing machine and polished to match the surface of the marble slab.
Now if the table requires any other materials to be attached to it. Holes will be expertly cut by hand for the legs to seamlessly fit into the stone.
Meanwhile if a coffee table base or any solid wooden legs are needed. They will be produced by master craftsmen. If the legs are circular they will be made through a process called wood turning which is a completely handcrafted process. If the legs are not circular a master joiner will shape them with various machines from a raw wooden slab. And then provide the finishing details by hand using custom made tooling.
If wood is the chosen material for the legs or the base several coatings of Danish oil will be provided to protect the wood and draw out it's natural beauty.
Finally an expert craftsmen will combine everything together. The end result being a bespoke luxury marble coffee table.
Once this is complete the product will be dispatched from our delivery depot to the requested delivery address.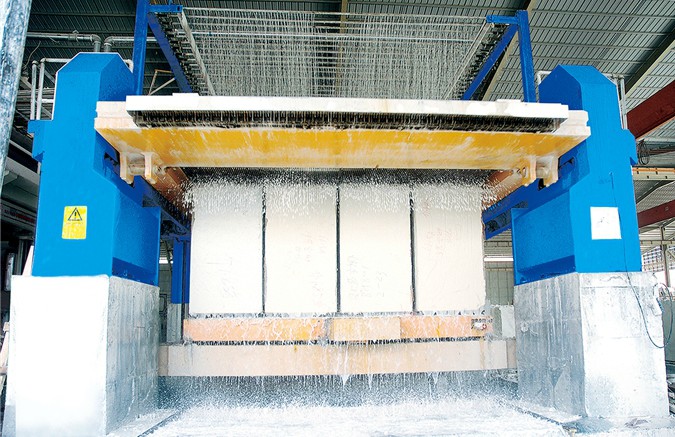 How We Price Our Marble Coffee Tables
We price all our marble coffee tables to be aligned with our mission of making the finest handcrafted items affordable to as many people as possible.
Below we will detail how we go about pursuing our objective of fulfilling our mission.
The Cost of the Marble Used in a Coffee Table
The price of the marble in each coffee table will depend upon the specific marble selected and the type of fabrication work required to shape the marble into its finished state.
The effect fabrication work has on the price of a coffee table depends upon the time required to create the desired finish. For instance, circular shaping and special edge details will lead to an increase in the fabrication cost.
Whereas standard edge polishing and square or rectangular shaping will lead to a lower fabrication cost.
Different materials are subject to different levels of supply and demand.
For example, a marble with a scarce supply due to depletion or being difficult to quarry, will generally cost more than a marble which is in abundant supply.
Also, more popular marbles will have higher demand which will be reflected in the cost. One such marble is white statuary marble (often referred to as Statuario marble) used in so many of the world's most prestigious statues.
The balance of supply and demand is constantly in fluctuation for all marbles. This means the prices can change from month to month.
Despite this we endeavour to keep the prices of our coffee tables at a consistent price. And lower them whenever possible. This can be achieved due to a reduction in the price of the material or improvements in our own distribution and manufacturing processes.
The Cost of Other Materials in our Marble Coffee Tables
As with all our products quality is of paramount importance. And to complement the beauty of natural marble we will only use the finest materials. Be it walnut, oak, chrome or glass.
We Only Use Solid Wood
We will only ever use solid wood for our coffee tables. All our coffee tables are made from solid hardwood.
A lot of cheaper coffee tables claiming to be solid wood are in fact veneers wrapped around a low-quality wood.
In case you don't know what a veneer is, we will explain it. Let's use walnut as an example. A walnut veneer is where you fix an outer, very thin layer of walnut over a much cheaper wood. The result is a piece of furniture which looks like solid walnut. However, what you have is a cheap wood wrapped with a thin layer of walnut.
Hardwood veneers are frequently used in furniture. And there is nothing wrong with veneered wood. But if it is veneered wood wrapped around a much lower quality wood the result will be a piece of furniture of a much lower quality.
For this you need to be aware if a piece of wood is claimed to be solid walnut or oak and costs a fraction of other items which are solid walnut or oak. You have come across a piece of oak or walnut veneered upon a cheaper wood.
Just like marble the price for solid wood and oak can fluctuate with supply and demand. Again, the price for other materials in any marble coffee table will be attempted to be reduced as much as possible with improvements in our processes for both distribution and manufacturing.
The Cost of The Craftsmen Who Produce our Marble Coffee Tables
With the objective of creating the finest handcrafted marble coffee tables in the world we will only use the highest quality craftsmen to fabricate. And assemble each coffee table.
With such expensive materials being used, we strongly believe the only way to provide you with an immaculate finish is to use the most skilled craftsmen available. Although these craftsmen may cost more and cause the product to be priced higher. The result will be a marble coffee table with the highest quality finish and a product with a significantly longer lifespan.