Are you looking for a black marble coffee table? Our collection of black marble coffee tables features a variety of coffee table designs in the most exclusive black marbles. This includes designs where a beautiful black marble is combined with prestigious woods such as walnut and oak. And designs where the whole coffee table is exclusive crafted from solid black marble.
If you are looking for the ultimate luxury black marble coffee table for your living space you will find it in this collection.
Choosing a Black Marble Coffee Table
The boldness of black makes a strong statement in any living space. The challenge with black is to use just the right amount to avoid the room becoming too dark and having the illusion of being smaller than it really is. Black marble helps you successfully navigate this challenge.
Firstly, the black background of the marble gives you the opportunity to use contrast. The black marbles contrast perfectly with white. You have an abundance of ways to contrast black with white. This includes the use of white marble floor tiles or white furniture and wallpaper.
By achieving this contrast, you are able to make the black marble coffee table a real focal point of your room. This accentuates the natural beauty of your room and radiates an air of opulence.
Secondly, the veining of the black marbles gives you the opportunity to use complementary materials to bring a particular feel to the room. Such options include using the warm black marble Noir St. Laurent with walnut to bring a cosy feel to a room. Or combining gold décor with Nero Marquina to bring a feel of unprecedented luxury.
The possibilities with a black marble coffee table are endless. This is what makes it such a popular choice of marble to use in a coffee table.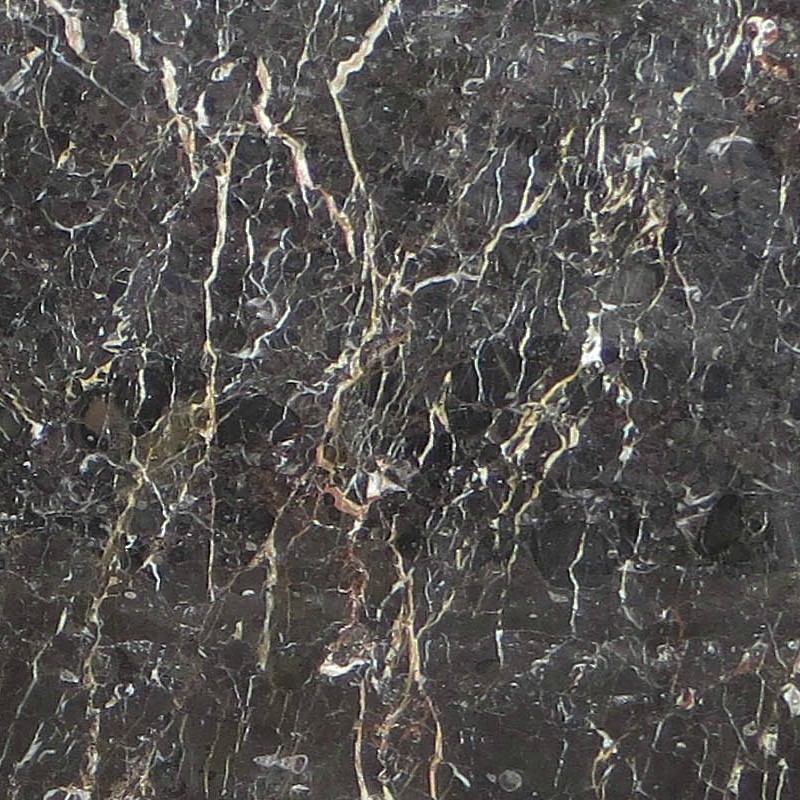 Nero Marquina a Beautiful Black Marble with White Veining
Nero Marquina is the most popular choice for those choosing to have a black marble coffee table. This stone was once relatively unknown outside of Spain, but is now one of the worlds most admired black decorative stones. It can commonly be seen in flooring where it comprises of a checkerboard pattern.
This marble comes from the Basque region of Spain and is quarried in the town of Marquina. Nero Marquina is a recrystallized reef stone and contains relics of fossils and white calcite veins. Some slabs of this marble have just a few flecks of white whereas other slabs are very heavily veined. It is something which varies from batch to batch.
Nero Marquina's popular use as a material for marble coffee tables is unsurprising. This marble combines well with many other materials especially whites. If you have light carpets or white marble tiles such as Carrara in your living space a Nero Marquina black marble coffee table will fit in seamlessly and enhance the elegance of your room.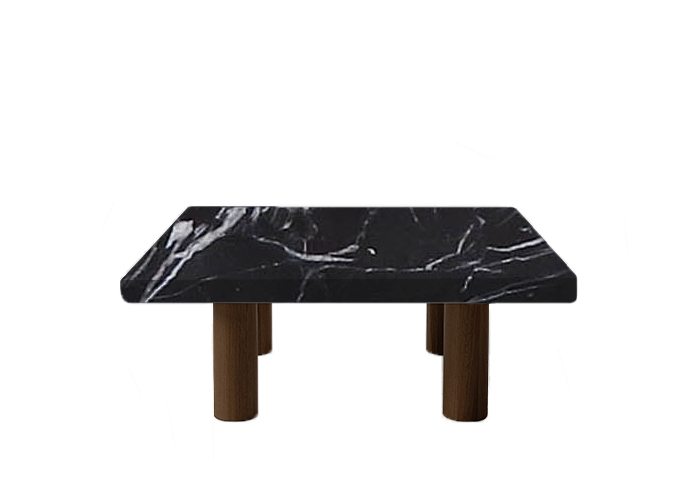 Noir St. Laurent a Warm Black Marble with Gold and White Veining
Noir St. Laurent is a luxurious marble which is often seen decorating the world most exclusive hotels. It is a warm black marble which possesses very fine gold and white veining. This veining can also contain yellow and on occasions a beautiful orange red colour. Noir St. Laurent is quarried in Laurens, near Béziers, Southern France.
This breathtakingly beautiful black marble has been used as a decorative material since at least the 1950's and is amongst the most sought after marbles in the world. This highly coveted marble can be seen in the interiors of luxury hotels such as the Conrad Hilton in Hong Kong and the Ritz Carlton in Seoul.
It is arguably the most prestigious choice of marble to use in a black marble coffee table. The marble as a whole package emits an air of distinction and elevates the standing of any room in which it is located.
Noir St. Laurent is a warm black marble so as a coffee table material it blends especially well with the solid woods oak and walnut, as well as gold and cream. The high status of a black marble coffee table is exuded in this material regardless whether the table is comprised solely of marble or combined with other luxury construction materials.
It is important to know there is a stone from Morocco which is marketed as 'Port Laurent'. This is not the same material and is a strategic play on two of the most illustrious black marbles. These marbles are Noir St. Laurent and the rarely quarried Nero Portoro.