Solid Oak Coffee Tables
Are you looking for a solid oak coffee table? Explore our luxury collection of oak coffee tables. Every table in this collection is handmade in the United Kingdom by master craftsmen. Each piece of solid oak used for the coffee tables in this collection is hand selected to ensure the finish is immaculate.
If you want a luxury solid oak coffee table handcrafted by master craftsmen in the UK this collection of oak designer furniture by Prestige Edition is for you.
Browse our Solid Oak Coffee Tables
What is Oak?
Oak is any tree of the genus Quercus. The oak tree is native to the northern hemisphere and produces hardwood. There are approximately 600 different species of oak tree and they can be both deciduous and evergreen. The wood produced by the oak tree has been used in furniture for thousands of years.
Properties of Oak Wood
Oak is an extremely strong hardwood. This durability combined with its resistance to fungal attack make it the perfect material for an oak coffee table which needs to last for a lifetime.
Adding to oaks suitability as furniture material is its prominent graining and attractive light colour. This allows oak to effortlessly act as a centre piece of any room or complement a range of other luxurious materials including glass, granite and marble.
In the long-term oak is extremely cost effective. Solid oak furniture constructed by a quality craftsman will last a lifetime. Therefore, when you take into account the cost over decades where you might have to replace poor quality wood furniture several times. The one-off cost of a solid oak coffee table works out a far more cost-effective solution in the long run. Not only this it is a far more beautiful piece of furniture for your home.
The Appearance of Oak Wood in a Solid Oak Coffee Table
The shade of oak wood in a coffee table will vary each time due to a tree being a natural material. Also, each piece of oak will have its own unique blend of large and small filled knots and cracks.
This means when you choose a solid oak coffee table you are getting a piece of furniture which is truly unique.
Oak blends beautifully with a multitude of other materials making it easier to blend in with the design scheme of any room. Possibilities include:
Combining Oak with Cream
A cream and oak coffee table is a perfect way to combine oak with another material and achieve a beautiful result. This can be done by using a luxurious cream marble top on a coffee table with oak legs or an oak base. Others ways to benefit from the coffee and oak combination include the use of a solid oak coffee table combined with cream carpets, sofas or curtains.
Using Contrasting Colour with Oak your Oak Coffee Table
An oak coffee table can be used as a centre piece of a room by setting it against dark colours including greens, blacks, navy blues and even dark greys.
Alternatively, you can beautifully combine oak with any of these colours in a single piece of furniture. One example would be a coffee table with oak legs and a green marble top.
The possibility with oak are truly endless.
Using Soft Neutral Colours with Oak
A coffee table in oak can be made to blend in with the rest of your room. This can be achieved by using soft neutral colours with earthy tones. One way this can be achieved is by using beige marble tiles, or wood flooring and painting your walls in a neutral colour.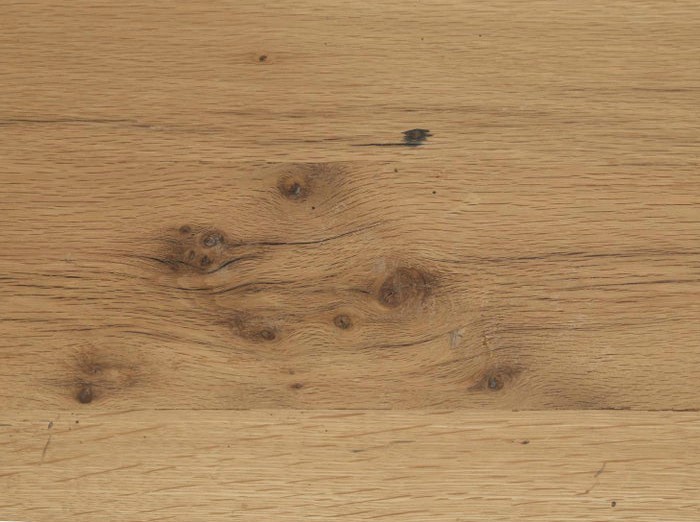 Dealing with Natural Movement in your Oak Coffee Table
There are a number of ways in which the effects of natural movement in solid oak can be controlled. Oak like walnut are wood's which have an excellent balance between a beautiful appearance and a medium movement coefficient. This means oak and walnut are the most aesthetically pleasing hardwoods which are less prone to suffer from movement.
This process of controlling this movement starts with selecting the right piece of oak to begin with. As the reason for movement in a piece of oak is down to moisture content it is imperative the wood selected for an oak coffee table has a moisture content as close to possible as the indoor environment it is going to be situated in.
For this reason, the oak needs to be kiln dried.
• This is wood which is first air dried. This is done by stacking the timber for a period of months allowing the moisture to slowly equalise with the outdoor temperature.
• Next the wood is moved into a kiln which is designed to further reduce the moisture content within the wood. This is to get the woods moisture content even closer to matching the air in an inside environment. Kiln drying should be done slowly and carefully. This is to ensure the wood dries evenly all the way through and has minimal movement occurring as it gradually becomes accustomed to an indoor environment.
Even though this kilning process is effective in controlling the natural movement in the oak, the air of a centrally heated house property will still have a lower moisture content than a commercial kiln.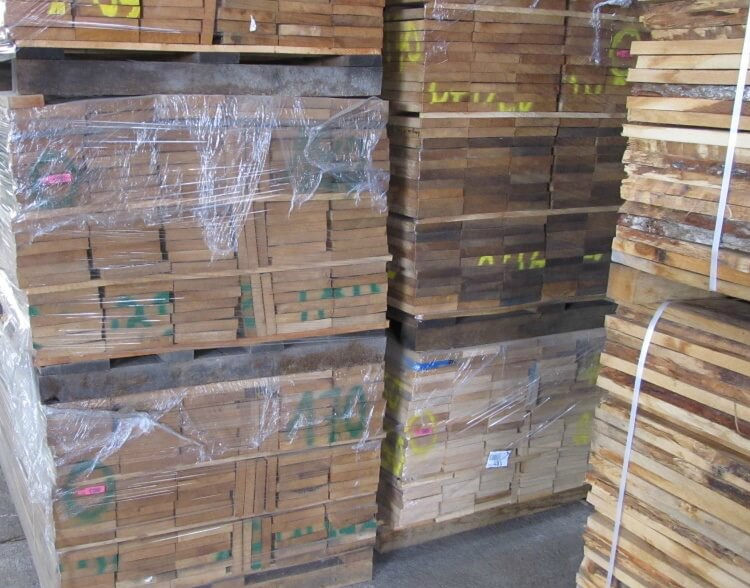 Looking after an Oak Coffee Table in Your Home
Once the coffee table is in your home you have the ability to control the natural movement of the oak. After all, you control your home environment.
The Best Environment for Solid Oak Coffee Tables
The best environment for solid oak is one where natural air is circulating all year round. This circulation of natural air is what natural oak is used to and helps keep the natural movement in your solid oak coffee table as slow and gradual as it can be.
The Worst Environment Solid Oak Coffee Tables
The worst environment for your new coffee table would be a room with no air circulating with dry air. This would mean closed windows and doors, dehumidifiers, air condition or the use of underfloor heating. This effectively accelerates the moisture loss from the timber giving the maximum possible natural movement which will result in splits and cracks.
What to do if your Environment is Not Ideal for Oak
Fortunately, if your coffee table is situated in an environment similar to the one described as the 'The Worst Environment' there are some things you can do to help your coffee table gradually adjust to your its new environment.
• Ensure fresh air is circulating throughout the room and your property. This means windows and doors open.
• If you can turn off the heating. Or at the very least have it on as low as possible for the first month you have your new coffee table. Then slowly increase the temperature you have your heating over the next 3 months to the level you want it to be at. This allows the table to gradually adjust to the regular temperature of your house.
Add at least one source of moisture into the room where your table is situated.
• This can be done by having at least one plant. This puts moisture back into the air through photosynthesis. By having this source of moisture, you reduce the dryness of the air and reduce the rate at which moisture draws from the oak.
• Alternatively, you can use a humidifier in the room where you table is to control the moisture level in the air. This is the exact same principle as houseplant but gives you the ability to precisely control the amount of moisture in the air.
The first 12 months your coffee table is indoors is the time it is most susceptible to natural movement issues. Once it has experienced the 4 seasons indoors it will become acclimatised to its environment. From this point, onwards the majority of any natural movement in your solid oak coffee table will have taken place.
Want to compare how oak looks alongside other wooden coffee tables like walnut? Click here and see our wooden coffee table collection featuring a range of solid hardwood.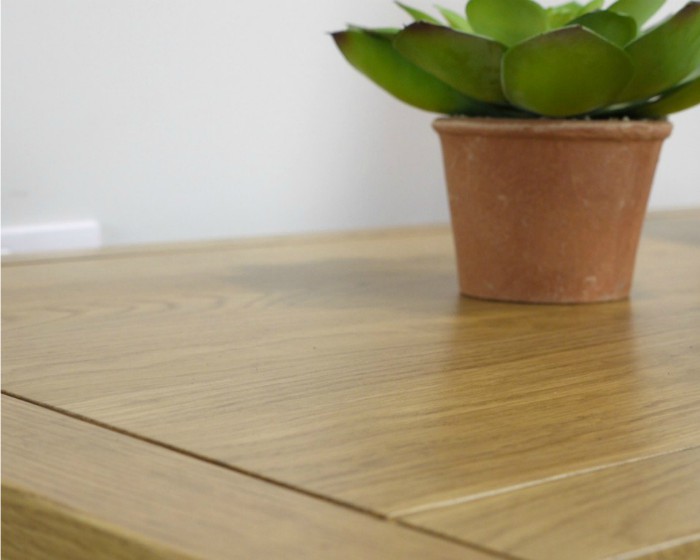 How We Price Our Oak Coffee Tables
We price all our oak coffee tables to be aligned with our mission of making the finest handcrafted items affordable to as many people as possible.
Below we will detail how we go about pursuing our objective of fulfilling our mission.
We Never Use Veneered Oak
We will never use veneered oak for any of our coffee tables.
An oak veneer is where you fix an outer, very thin layer of oak over a much cheaper wood. The result is a piece of furniture which looks like solid oak. However, what you have is a cheap wood wrapped with a thin layer of oak.
Oak veneers are frequently used in furniture. And there is nothing wrong with veneered oak. But what you do need to be aware if a piece of wood is claimed to be solid oak and costs a fraction of other items which are solid oak. You have either come across a piece of veneered wood. And in comparison, to solid oak furniture the furniture produced with the veneered oak will be of a vastly reduced quality.
Or you have come across a piece of oak which hasn't been kiln dried. Hence it will be more prone to movement when it acclimatises to your home. This means, bending, twisting and cracking of the oak.
All of our oak coffee tables are kiln dried solid oak.
The price of oak can fluctuate with supply and demand. Just like all our other items we will attempt to be reduce prices wherever possible. This will be done when material costs are available at lower prices. And with improvements in our processes for both distribution and manufacturing.
The Cost of the Oak Used in a Coffee Table
Solid oak is one of the more expensive choices for timber furniture. There are several reasons which influence the price of our oak coffee tables. First, oak is a hardwood. Hardwoods grow a lot slower than softwoods. This in turn means a lot more hours must be put into producing the raw material for an oak coffee table.
The Cost of Fabricating an Oak Coffee Table
Once the raw material is ready to be worked on there are some other unique factors with oak which cause its price to be higher. Oak is a lot harder to work with compared to other woods due to its density and strength. This means better tooling and more care is needed. Extra care is needed because if a mistake is made the wood can be irreversibly damaged.
This is another reason why we only use the very best craftsmen for all our coffee tables. Not only is this for quality reasons but to keep the price of the final product as low as possible. Using quality craftsmen helps keep the price of the product low by minimising expensive wastage during the fabrication process.
The cost of a coffee table can be further increased by more time-consuming finishes. Such finishes included circular shaping and wood turning of circular legs.
And like all natural materials the price of oak is constantly fluctuation in line with the balance of supply and demand. This means the prices can change from month to month.
Despite this we endeavour to keep the prices of our coffee tables at a consistent price. And lower them whenever possible. This can be achieved due to a reduction in the price of the material or improvements in our own distribution and manufacturing processes.
The Cost of The Craftsmen Who Produce our Oak Coffee Tables
With the objective of creating the finest handcrafted oak coffee tables in the world we will only use the highest quality craftsmen to fabricate. And assemble each coffee table.
With such expensive materials being used, we strongly believe the only way to provide you with an immaculate finish is to use the most skilled craftsmen available. Although these craftsmen may cost more and cause the product to be priced higher. The result will be an oak coffee table with the highest quality finish and a product with a significantly longer lifespan.