White Marble Coffee Tables
Are you looking for a white marble coffee table? We have the most extensive range of white marble coffee tables on the internet. From the world famous, white marbles of the Carrara mountains in Italy, to the pure white Grecian marble of Thassos and the beautiful white marbles quarried from the Colorado mountains, our vast collection will enable to choose the perfect stone for your white marble coffee table.
Not to mention we are constantly adding both new designs and new white marbles to our collection all the time. No matter what style you desire, be it a completely solid marble coffee table, or a white marble top combined with beautiful solid woods such as walnut and oak you will find it in this luxurious collection.
Browse our White Marble Coffee Tables
The Beauty of a White Marble Coffee Table
To most people, the word "marble" brings to mind the pure white stone so prized for sculpture since ancient times. Iconic building such as the Acropolis in Athens and the Taj Mahal in Agra are both built with white marble. The famous David and Rodin's The Kiss was sculpted by Michelangelo in white marble.
As soon as one sets eyes on white marble the immediate impression is one of prestige and luxury.
The first sources of white marbles in the Western World were to be found in Greece and the Apuan Alps of Italy. From the Apuan Alps comes the world-renowned Carrara Marble the material used to build The Pantheon. And from Greece comes the pure white Thassos Marble.
In addition to these early marble sources white marble can be obtained from other areas of the world. This includes Calacatta Ivory from South Africa and Calacatta Colorado from the Appalachian Marbles in the United States.
Whenever a white marble coffee table is displayed in a living space the result is outstanding natural beauty which impresses all who lay eyes on it. This beauty holds whether it is a solid white marble coffee table or a white Italian marble coffee table combined with a solid oak or walnut.
White marble is perhaps the ultimate way to bring prestige to a room.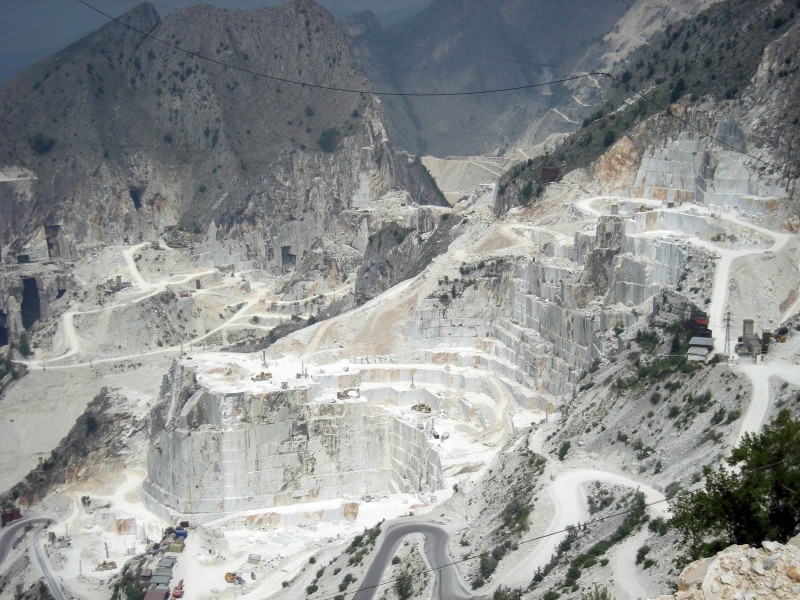 A Closer Look at the White Marble Statuario Extra
Statuario marble is one of the most prestigious construction materials on the planet. This luxurious has been used in iconic buildings such as the Pantheon and in the private residences of some of the world's richest people.
If you choose to have this material for your coffee table. You will benefit from having a piece of furniture which eternally conveys a message of beauty, prestige and power.
The Appearance of Statuario Marble
Statuario Extra possess a pure white background with beautiful grey veining.
For the maximum beauty, all of our white marble coffee tables in this material are created with Statuario Extra only.
The extra attached to the end of the material name means when this white marble was graded as a block it was graded as a block of a higher quality than others due to its clarity.
The Quarrying of Statuario Marble
Statuario is quarried in different locations throughout Carrara. Over the course of a year several thousand tonnes of this exquisite marble are produced. Mount Betogli is the part of Carrara which has the richest supply of this beautiful white marble.
Of course Carrara is the home to many more beautiful Italian marbles, which have similar properties to Statuario Extra. If you would like to view our collection of coffee tables in Carrara mable click on the following link: https://prestigeedition.co.uk/carrara-marble-coffee-tables/
Or if you want to see our full range of Italian marble coffee tables please click here.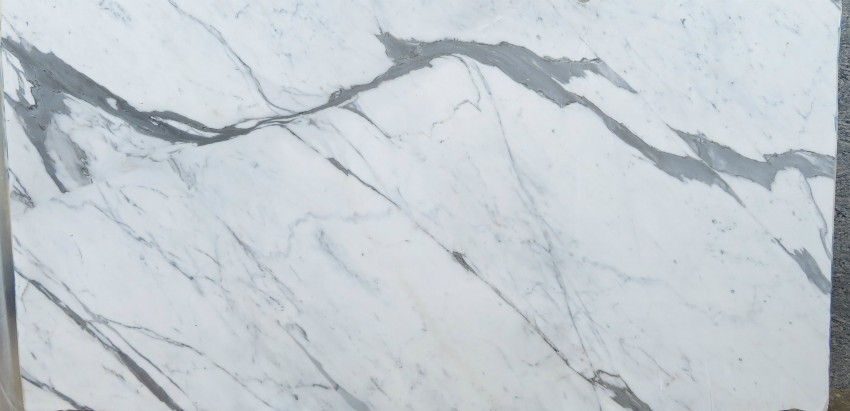 Calacatta Colorado is a Great Choice for a Modern White Marble Coffee Table
Calacatta Colorado is a luxurious modern white marble. It has not been used for as long as the famous Italian white marbles but can compete with them in terms of its beautiful appearance. And it can even claim its own involvement in historical landmarks. This white marble was sued to construct 'The Lincoln Memorial' in the early 1900's.
The Production of Calacatta Colorado
This beautiful white marble is quarried from a gallery quarry near Aspen, Colorado. It is 300 feet wide by 300 feet thick and 3 miles in length. The quarry was discovered in 1873 in the Colorado Rockies. Due to this quarry being inside a mountain production can happen all year round. Even in the harshest of winters.
The marble produced for this quarry is a consistent warm white with light veining which can be grey, gold, brown or beige. In a coffee table this white marble combines beautifully with both walnut and oak.
Of all the marbles Calacatta Colorado is amongst the most impressive options for those seeking a white marble coffee table.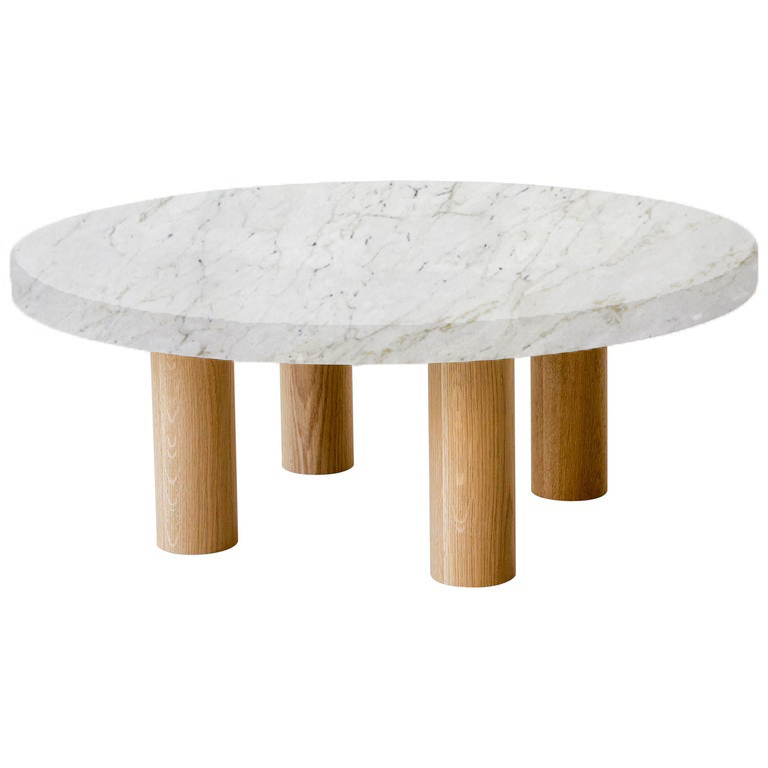 Lilac Milas an Eye-Catching Choice for a Marble Top Coffee Table
Perhaps you are looking to use a white coffee table as an attention-grabbing centre piece to your room. Lilac Milas could be perfect for you.
This marble combines a pure white background with well-defined interwoven lilac veining. A coffee table in Lilac Milas combined with walnut is a particularly luxurious combination which will emit a royal aura to any room in which it is situated.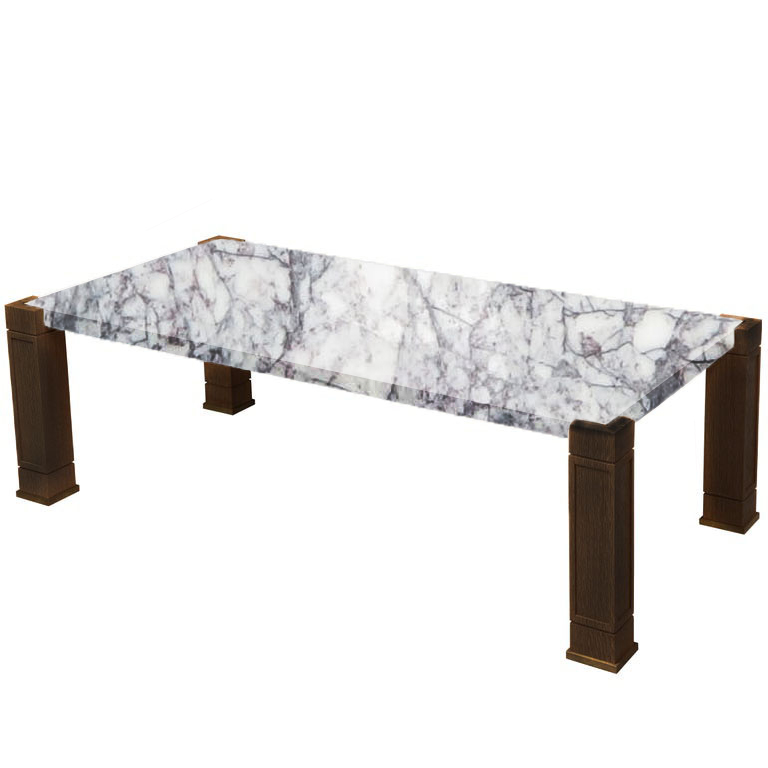 The Classic Choice for a White Marble Coffee Table: White Italian Marble
Italian marble coffee tables are the classic choice when looking for a marble topped coffee table. The range of beautiful white marbles quarried in the Carrara region of Italy are as prized today as they have been throughout the centuries.
Above we looked at the exquisite Statuario Extra Marble. But there are many more options from Italy which can give your coffee table the perfect look you are after.
This includes the classic Carrara Marble, Arabescato Vagli, Calacatta Oro and many more options.
Click here to find more information about the options you have for an Italian Marble Coffee Table.