Round Coffee Tables
Are you looking for a round coffee table? Explore our luxury round coffee table collection. This collection comprises of round coffee tables crafted in prestigious materials. This includes a variety of marbles and the highest quality natural woods.
Each of these circular coffee tables have different bases and legs, all exquisitely constructed by master craftsmen.
If you want to furnish your living space with a circular coffee table, this luxury round coffee table collection is for you.
Browse our Round Coffee Tables
Our Round Coffee Table Collection
This round coffee table collection is centred upon making sure each coffee table brings prestige to any room in which it is situated. This is ensured by handpicking the very finest materials available and then a master craftsmen constructing each coffee table.
Not only does this round coffee table collection ensure you have a beautiful piece of furniture it also gives you a coffee table which can last a lifetime.
Benefits of Choosing A Round Coffee Table from our Collection
• Round Coffee Tables can be used to create a focal point of a room leaving a memorable impression on guests. Especially with the beautiful marble and solid wood coffee table tops in our collection.
• A circular coffee table can be combined with almost any other type of furniture.
• This collection provides you have the widest range of prestigious materials for a round coffee table to choose from. So, you are sure to find something which both brings luxury and conveys to your rooms colour scheme.
• We only use the best quality materials and all of our coffee tables are built by master craftsmen ensuring your table lasts far in excess of cheaper alternatives.
• Both large and small tables are available, so you can find the perfect size for your living space.
• FREE UK Delivery on all of the coffee tables in this collection.
Round Coffee Table UK Delivery Time
Once you have ordered a round coffee table from Prestige Edition the delivery is FREE to customers within the UK. You will receive your item within 6 weeks of placing your order.
The reason it takes up to six weeks to deliver your order is in most cases we make each coffee table on a per order basis due to the high cost of the material involved. Most of our round coffee tables also include solid wood which means they need to be treated with multiple layers of Danish oil. This takes some time as we need to wait for each layer to dry before applying the next.
In addition to this some of the natural stones we used will not be held in our UK depot and will have to be imported from our Italian warehouse. So, we may have to wait up to two weeks on a marble slab to be delivered before we can begin the fabrication process.
In some situations, we be able to deliver your coffee table much faster than the 6-week delivery time specified.
No matter what. Before any order is delivered one of our team will contact you and confirm a time which is convenient for you.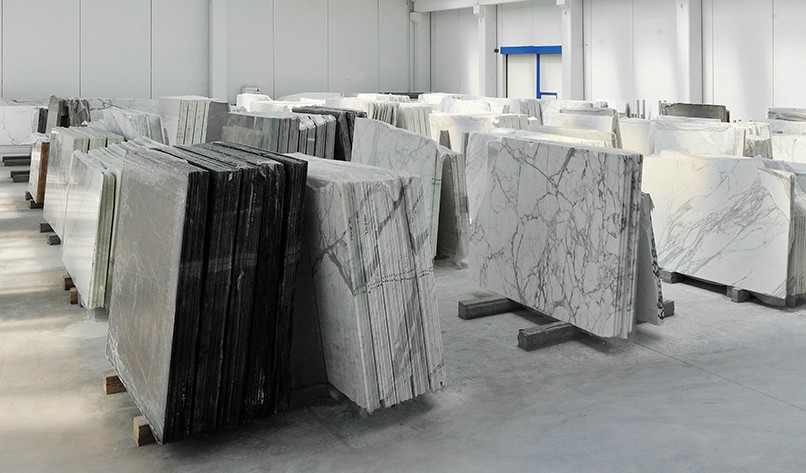 Choosing a Small Round Coffee Table for your Living Space...
Our collection consists of small round coffee tables which measure 650mm by 650mm. This means you can fit a beautiful round coffee table into even the smallest of living spaces and give the room the elegance it deserves. There are just as wide a range of materials to choose from as in our standard collection, so you don't have to suffer any reduction in the choices available. This ensures you can find the luxurious finish which is just right for you.
In addition to the same range of materials being on offer, you will also benefit from exactly the same range of leg finishes including, circular legs, square legs, chamfered and fluted finishes.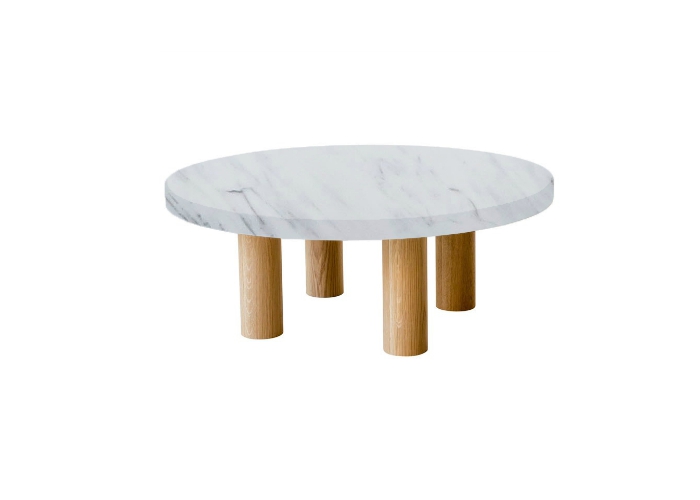 An Extensive Range of Large Round Coffee Tables
Perhaps you want a large coffee table for a large room or just to fit a lot of people around it. Whatever your reasons we can provide you with an extensive range of luxurious materials and leg finishes to give you just the large round coffee table you are looking for.
Our beautiful collection of large round coffee tables feature tables which possess a diameter of 1.2metres ensuring they make a statement in even the largest of rooms.
Do you Need a Low Round Coffee Table?
Our collection consists of low round coffee tables which stand at 350mm. This is opposed to other coffee tables we offer which stand at 400mm, 430mm and 450mm.
Again, just like with our small coffee table collection we allow you a full range of prestigious materials and beautiful leg finishes. This allows you to have a round coffee table as the vocal point of your room at the low level which you want.
Reasons for Choosing a Low Coffee Table
• If you have a very low sofa.
• If you are attempting to create a casual laid back feel in a room.
• If you have very low side chairs.
How our Circular Coffee Tables are Constructed
Our circular coffee tables are made in multiple different stages. These stages break down into the following areas:
1) The creation of the coffee table legs.
2) The creation of the round coffee table top.
3) The finishing of the legs and the table top.
4) The assembly of the circular coffee table.
In the creation stages, the raw materials will firstly be cut to size and then shaped into the desired dimensions.
Next if wood is being used it will have at least three coats of Danish oil applied to it. This is to make the wood food, alcohol and water resistant. Ensuring the longevity of your coffee table. It takes between 24 and 48 hours for each coat to dry. Which is one of the reasons why the delivery time of some our items can be up to six weeks.
If marble, granite or any natural stone is part of your round coffee table. It will undergo edge polishing. And if you have a solid wood top the edge of the table will be treated with sandpaper around the circumference to give you a smooth finish.
The edge detail of a natural stone round table top will in most cases be a 3mm radius to the top and bottom of the edge. This is sometimes known as pencil round finish. The purpose of this finish is to take the sharpness of the table tops edge. There are two benefits of this. One it makes it less painful if you were to accidentally knock into the coffee table. And two it reduces the probability any chipping occurring if you were to bang a heavy object on the edge of your table.
Once all of this is done your coffee table will be expertly assembled. And then securely packaged for delivery to your preferred destination.